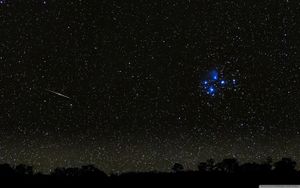 The return of Shooting Star
2018 was the 38th Anniversary of the legendary Shooting Star debut album released in 1980. Featuring the iconic hit songs written by Van McLain and Gary West; You've Got What I Need, Bring It On, Last Chance and more.  Sadly though 2018 was also year of tremendous loss.
Through the years, Shooting Star endured their share of industry challenges and member changes. There were even times it seemed that the band could not continue forward. But founding member Van McClain was the constant rock that kept the fire burning. 
Sadly, Van McLain passed away in March of 2018. The remaining members were determined to continue on to honor Van and keep his music alive. With the full support from Van's family SHOOTING STAR continues to shine today.
Jan. 19th, 2019 marked the return of Shooting Star to a sold out crowd at  the Ameristar Star Pavilion in Kansas City, MO.
For upcoming shows, visit the Shows page.
Shooting Star is:
Steve Thomas - Drums
Dennis Laffoon - Keys, Vocals
Janet Jamison - Violin, Vocals
Todd Pettygrove - Lead Vocals, Guitar
Chet Galloway - Lead Guitar, Vocals